1. Introduction
1.1. What is devonfw?

Welcome to the devonfw platform. This is a product of the CSD (Custom Solution Development) industrialization effort to establish a standardized platform for custom software development within Capgemini APPS2. This platform is aimed at engagements, in which clients don't specify the use of a predefined technology stack. In these cases we can offer a proven alternative as a result of our experience as a group.
devonfw is a development platform aiming for the standardization of processes and the boosting of productivity. It provides an architecture blueprint for server and client applications, alongside a set of tools to deliver a fully functional, out-of-the-box development environment.
| | |
| --- | --- |
| Tip | The devonfw name is a registered trademark of , but the software and documentation included in devonfw are fully open source. Please refer to our OSS Compliance section for more information. |
1.1.1. Building Blocks of the Platform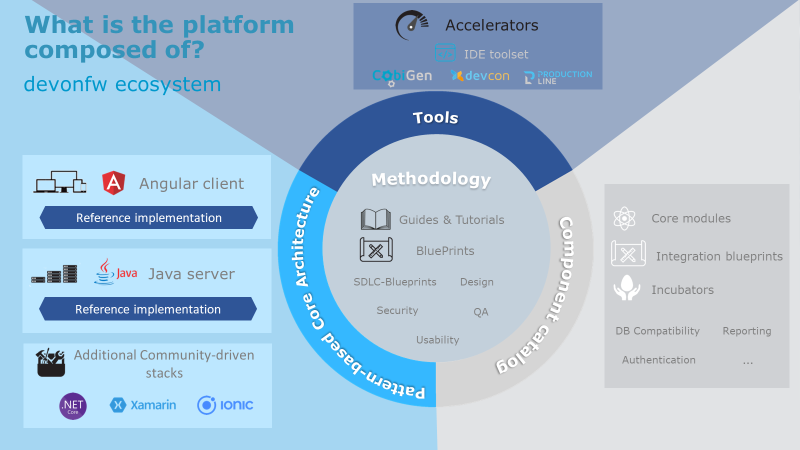 devonfw uses a state-of-the-art, open source, core reference architecture for the server (these days considered a commodity in the IT-industry) and on top of that an ever increasing number of high-value assets, which are developed by Capgemini.
1.1.2. The devonfw Technology Stack
devonfw is fully open source and consists of the following technology stacks:
Back-End Solutions
For server applications, devonfw includes the following solutions:
1.1.3. Custom Tools
devonfw-ide
The devonfw-ide is not one monolithic program that is installed with a traditional executable; rather it's a collection of scripts which are invoked via command line to automate several, repetetive development tasks. These scripts then interact with other tools, frameworks, and third-party IDEs to streamline the development workflow.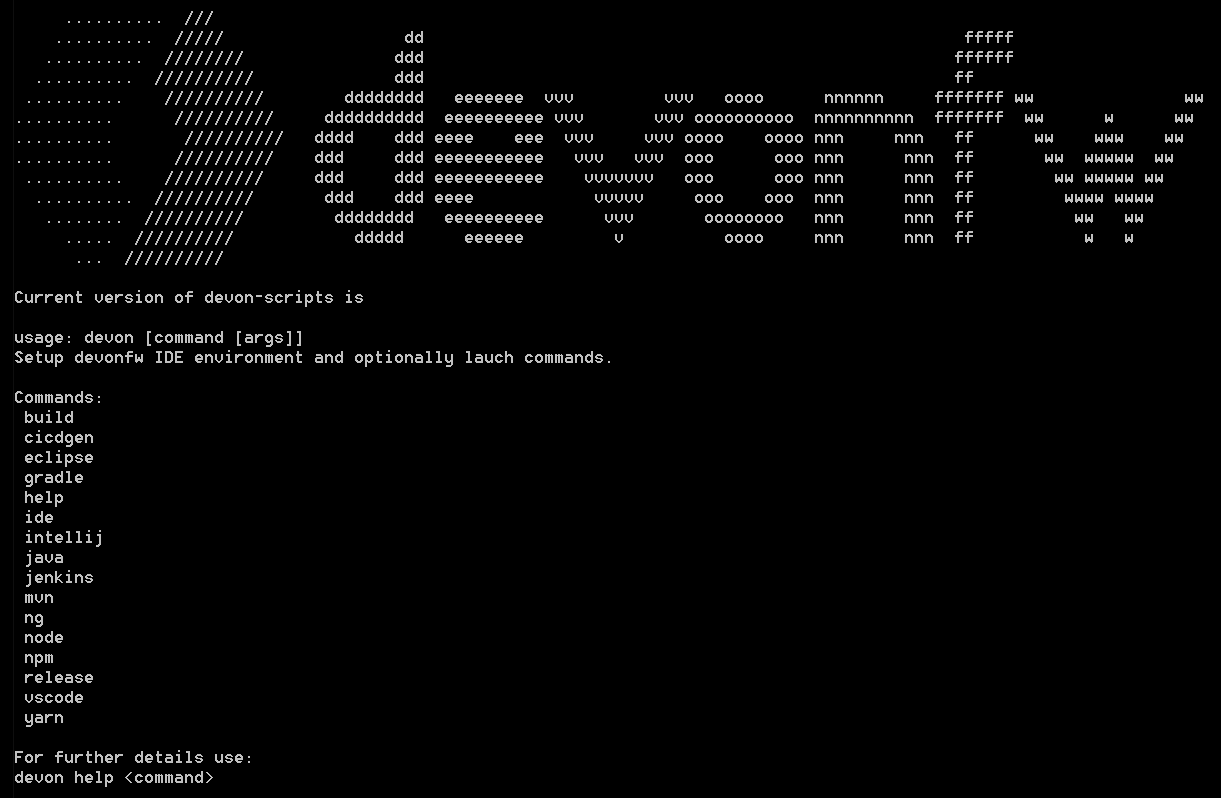 The advantage of this approach is, that you can have as many instances of the devonfw-ide on your machine as you need — for different projects with different tools, tool versions and configurations. No need for a physical installation and no tweaking of your operating system required!
Instances of the devonfw-ide do not interfere with each other, nor with other installed software. The package size of the devonfw-ide is initally very small, the setup is simple, and the included software is portable.
IDEs
It supports the following IDEs:
Platforms
It supports the following platforms:
Build-Systems
It supports the following build-systems:
| | |
| --- | --- |
| Tip | Other IDEs, platforms, or tools can easily be integrated as commandlets. |
CobiGen
CobiGen is a code generator included in the devonfw-ide, that allows users to generate the project structure and large parts of the application component code. This saves a lot of time, which is usually wasted on repetitive engineering tasks and/or writing boilerplate code.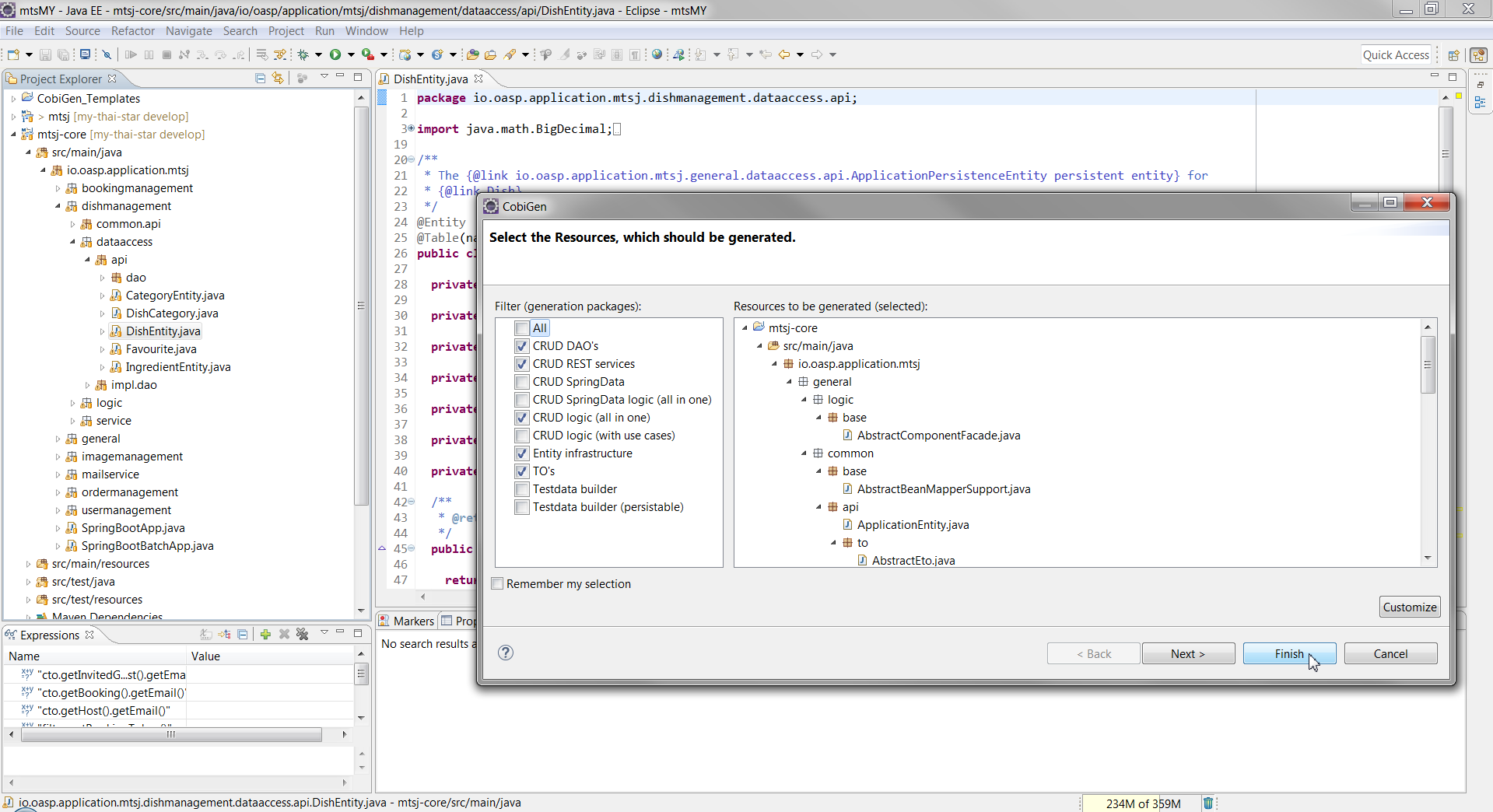 Following the same philosophy as the devonfw-ide, CobiGen bundles a new command line interface (CLI), that enables the generation of code using only a few commands. This approach also allows us to decouple CobiGen from Eclipse and use it alongside VS Code or IntelliJ IDEA.
1.2. Why should I use devonfw?
devonfw aims to provide a framework for the development of web applications based on the Java EE programming model. It uses the Spring framework as its Java EE default implementation.
1.2.1. Objectives
Standardization
We don't want to keep reinventing the wheel for thousands of projects, for hundreds of customers, across dozens of countries. For this reason, we aim to rationalize, harmonize and standardize the development assets for software projects and industrialize the software development process.
Industrialization of Innovative Technologies & "Digital"
devonfw's goal is to standardize & industrialize. But this applies not only to large volume, "traditional" custom software development projects. devonfw also aims to offer a standardized platform which contains a range of state-of-the-art methodologies and technology stacks. devonfw supports agile development by small teams utilizing the latest technologies for projects related to Mobile, IoT and the Cloud.
Efficiency
Up to 20% reduction in time to market, with faster delivery due to automation and reuse.

Up to 25% less implementation efforts due to code generation and reuse.

Flat pyramid and rightshore, ready for junior developers.
Quality
State-of-the-art architecture and design.

Lower cost on maintenance and warranty.

Technical debt reduction by reuse.

Risk reduction due to continuous improvement of individual assets.

Standardized, automated quality checks.
Agility
Focus on business functionality, not on technicalities.

Shorter release cycles.

DevOps by design — Infrastructure as Code.

Continuous Delivery pipeline.

On- and off-premise flexibility.

PoCs and prototypes in days not months.
1.2.2. Features
Everything in a Single ZIP
The devonfw distributions is packaged in a ZIP file that includes all the custom tools, software and configurations.
Having all the dependencies self-contained in the distribution's ZIP file, users don't need to install or configure anything. Just extracting the ZIP content is enough to have a fully functional devonfw.
devonfw — The Package
The devonfw platform provides:
Implementation blueprints for a modern cloud-ready server and a choice on JS-Client technologies (either open source Angular or a very rich and impressive solution based on commercial Sencha UI).

Quality documentation and step-by-step quick start guides.

Highly integrated and packaged development environment based around Eclipse and Jenkins. You will be ready to start implementing your first customer-specific use case in 2h time.

Iterative eclipse-based code-generator that understands "Java" and works on higher architectural concepts than Java-classes.

An example application as a reference implementation.

Support through a large community + industrialization services (Standard Platform as a Service) available in the iProd service catalog.
1.3. devonfw-ide Download and Setup